Ultra-Quiet Belt Drive Smart Opener with Dual LED Lighting

The Raynor Voyager smart garage opener is engineered with a trifecta of features: Dual LED lighting to brighten your garage, a best-in-class belt drive system and DC motor for ultra-quiet and smooth operation and myQ connection to control, secure and monitor the garage from anywhere at any time! Take your garage to the next level with the next generation Raynor Voyager.


Voyager Garage Door Opener Features and Options
Raynor Voyager garage door opener has the following features:

Keep living spaces virtually silent with the extra-strong belt drive system.

Enjoy extra peace and quiet with the long-lasting DC motor.

Extend hardware life and reduce maintenance with smooth start/stop operation.

Confidently know that every click sends a secure code to the garage door opener.

Protect people and vehicles with safety sensors that stop the door from closing on obstructions.

Belt Warranty: Lifetime
Motor Warranty: Lifetime
Parts, accessories and LED Warranty: 1 Year
Accessories
Included Accessories

Multi-function Control Panel
Operates the garage door and lights from inside the garage.

(1) 3-Button Remote Control
Operates up to 3 openers or myQ Light Accessories.
Product Details
Literature
Instructions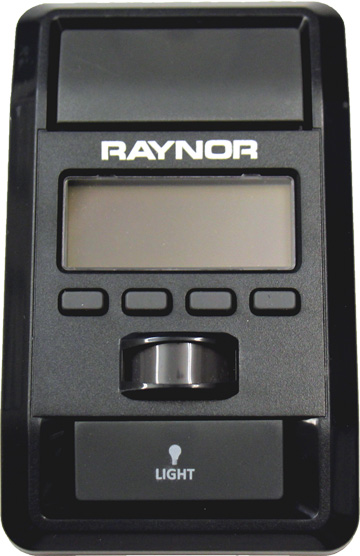 LCD display enables simple programming and adjustment of settings.

Operates up to 3 openers or myQ Light Accessories.

Integrated Battery Backup
Powers up the opener when the power is out. California SB-969 compliant.